Summary
A panoramic camera displays a panoramic image by stitching four images from four different sensors. Due to this characteristic, when images with different target distances are included in the combined image, the alignment of the image on the borderline between the sensors may look unnatural.
Below article describes how to align images for panoramic cameras
Pre-setup Recommendation
1. Minimum distance
In the case of a panoramic camera, since 2 to 4 images with different scenes are stitched and shown, a minimum distance between the camera and the subject is required. The minimum distance for stitching is about 5M.
2. Please upgrade the camera's F/W to the latest
| | |
| --- | --- |
| Model name | Current latest firmware |
| PNM-9022V | PNM-9022V_2.01,01_20210324_R143 |
| PNM-9031RV | PNM-9031RV_2.11.04_20221115_R526 |
| PNM-C9022RV | PNM-C9022RV_2.21.01_20221110_R351 |
3. Use a high-resolution display and a PC with a high graphic performance
Hanwha Panoramic cameras are high-resolution (4K ~ 15M) cameras, so if a low-resolution display and/or a low graphic PC is used, it may be difficult to adjust the image properly.
4. Setting menu location
Webviewer: Setup > Video & Audio > Image alignment
5. Recommendation for Monitor Screens
Use two screens(monitors) if possible.
The video is reduced to fit the size of the window browser in the Camera's Webviewer setup window, so it may be difficult to verify alignment.
Also, it would be difficult to adjust and verify at the same time with a single window.
Therefore, utilize one monitor for image verification and the other one for the image alignment setting is recommended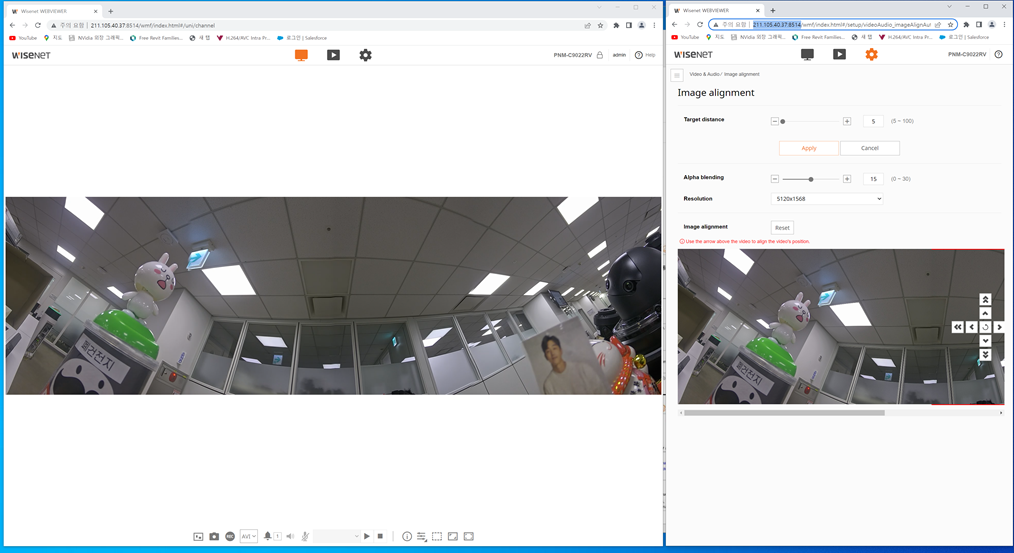 6. Center line alignment recommendation
It is recommended to set the panoramic camera according to the horizontal center line standard as shown in the figure below.

Setup guide by model
1. Supported setup features by models
| | | | |
| --- | --- | --- | --- |
| items | PNM-9022V | PNM-9031RV | PNM-C9022RV |
| Target distance | N/A | Support | Support |
| Alpha blending | Support(On/Off) | N/A | Support(Level:0~30) |
| Image alignment | Support | Support | Support |
1.1 Target distance
You can set target distance for optimal alignment for the target distance
1.2 Alpha blending
S/W function that smoothly connects borders
1.3 Image alignment
Function to adjust each of four channels' position
2. Image Alignment Method by models
2.1 PNM-9022V
- Adjust to align CH2 & CH3(2-3) first using Image alignment setting below.
- Adjust to align CH1 & CH2(1-2), CH3 & CH4(3-4)
- Enable Alpha Blending to smooth the edges if necessary

2.2 PNM-9031RV
- Set target distance first based on images of CH2 & CH3
- Adjust to align CH2 & CH3 first
- Adjust CH1 to be aligned with CH2 and adjust CH4 to be aligned with CH3
2.3 PNM-C9022RV
- Set target distance first based on images of CH2 & CH3
- Adjust to align CH2 & CH3 first
- Adjust CH1 to be aligned with CH2 and adjust CH4 to be aligned with CH3
- Enable Alpha Blending to smooth the edges if necessary. You can set the strength of Alpha blending between 0(off) to 30(Maximum)